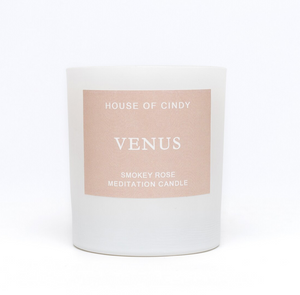 Venus Smokey Rose Meditation Candle
Size: 8 oz.
Wax: Natural Coconut Wax Blend. PARABEN FREE. Clean burn, sustainable non GMO certified coconut oil. Lead Free Cotton Wick.
Origin: Hand Poured with love in Los Angeles.
Container: Frosted White Glass.
Scent: Smokey Rose.
Care: Place candle on a heat resistant and level surface, away from flammable objects. Keep wick trimmed to 1/4 inch. Never burn a candle for more than three hours at a time. Never leave unattended while burning. Drafts will cause it to burn unevenly. Keep out of reach of children and pets. 
Rose is the top note in this beautifully nuanced, feminine fragrance. Base notes of musk and olibanum are layered with smoky warm middle notes of amber, vetiver, agar wood and cedar to evoke a rose garden in late summer blossoming with floral and earthly delights.