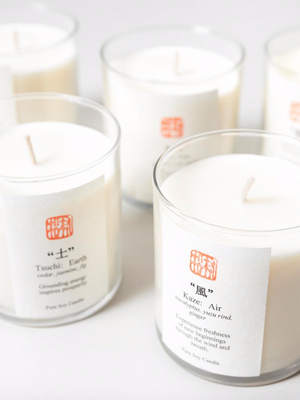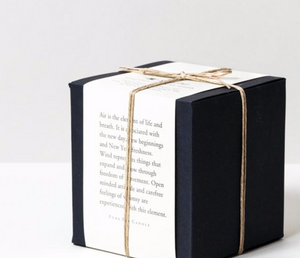 5 Element Soy Candle
Japanese philosophers once viewed the world as having five unique elements: air, earth, fire, sky and water. These elements are commonly used throughout Buddhist architecture and now have inspired this line of pure soy candles. From spicy to refreshing, each scent provides a vivid illustration of each symbolic element. Every candle is hand-poured from sustainable soy wax in the United States, and includes a Zen poem packaged within a beautiful handcrafted box. Please note that each candle is sold separately, not as a set.
Air: A fresh, citrus-esque combination of eucalyptus, yuzu rind (Japanese grapefruit), and ginger.
Earth: A warm mix of cedar, jasmine, and fig notes.
Fire: A slightly spicy combination of ginger, rose, and quince.
Sky: A simple floral aroma of jasmine, acacia, fresh grass
Water: A refreshing combination of cucumber, watercress, mint

Materials: Soy Wax, Essential Oils
Dimensions: Height: 3½" Diameter: 3¾"
Burning time: 60 hours
Made in the USA